branding company shows off logo wall sign in little rock
Marketing and branding companies understand the importance of a logo wall sign for branding firms in Little Rock AR. Logo signs are a part of their image and should be representative of the firm and its services. Branding firms spend the majority of their time managing their clients' brands through marketing and promotional objects. Wall signs work in a similar way as a promotional item for the office.
Our very own local branding firm, Southern Branding, came to us for a new wall sign in their showroom location. We proudly delivered a sign that fits perfectly in their well-design office. There was just one challenge we had to overcome first, but after we solved it, the results delighted the client and in turn delighted us.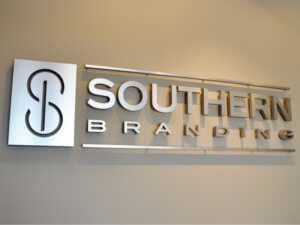 What is Southern Branding?
Established in 2008, Southern Branding is a strategic marketing and branding firm in Little Rock AR. It began out of Chad Hamlin, the owner's home and now has a spacious location with a detailed showroom of their many available promotional items. They also offer customized marketing plans.
The services they offer include:
Merchandise
Apparel
Tradeshows & Events
Corporate Programs and Awards
Printing Services
Webstores
Razorbacks
Custom Design
As a high-quality provider of promotional materials, we were happy to help them with a new logo wall sign. There were just a few things to sort out first: what sign material would be used, how it would be mounted, and how we would get it aligned properly to appear level!
More About the Project
Southern Branding asked Pinnacle Signs & Graphics for a logo wall display that matched their office design. We crafted a laminated brushed aluminum sign with dimensional lettering and a satin finish. The completed look is smooth with a gentle gleam from overhead lighting. The warm metallic coloring of the sign contrasts beautifully against the natural color of the wall.
The challenge for this project was mounting the wall sign properly. It was stud mounted, and since the wall next to the sign was not truly vertical, the sign had to be mounted to make it appear level. Although the sign is actually slanted, it looks to be aligned perfectly straight, thanks to careful attention to application!
Logo Wall Signs in Little Rock AR
Any office or showroom can benefit from logo wall signs, but branding and marketing firms cannot have a complete office without one. Companies such as Southern Branding not only market for others but they also market for themselves. Logos and wall signs play a huge part in helping customers remember the name and what the company does. Because of this, branding and marketing firms with professionally-designed wall signs see more referrals from current and previous customers.
Marketing aside, logo wall signs simply look good. Offices and showrooms are a huge part of a first impression, and logo signs help to complete the look. When shopping for seating, service desks, and décor, don't forget the most important part of your office design—a logo sign proudly displaying your company's name.